Welcome to the ultimate guide to kayaking in Alaska! This beautiful state, with its glaciers, fjords, and abundant wildlife, offers some of the best kayaking experiences in the world.
Whether you are a seasoned kayaker or a beginner, Alaska's stunning scenery and challenging waters will inspire and excite you, especially around Mendenhall Glacier. From the peaceful lakes and rivers of the interior to the wild and rugged coastlines of the south, there is something for every level of a kayaker in Alaska.
A tour we think you'll love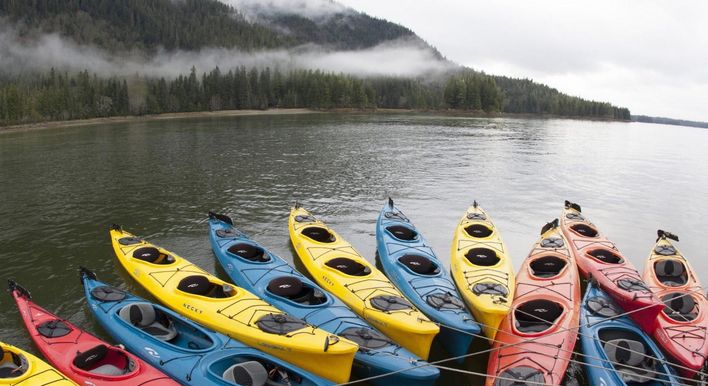 Icy Strait Kayak Adventure
From $180
View tour
In this blog, we'll explore the best kayaking destinations and everything else you need to know to make the most of your kayaking vacation in Alaska. There are many opportunities for kayaking tours as well. So grab your paddle, let's get started, and let the adventure begin!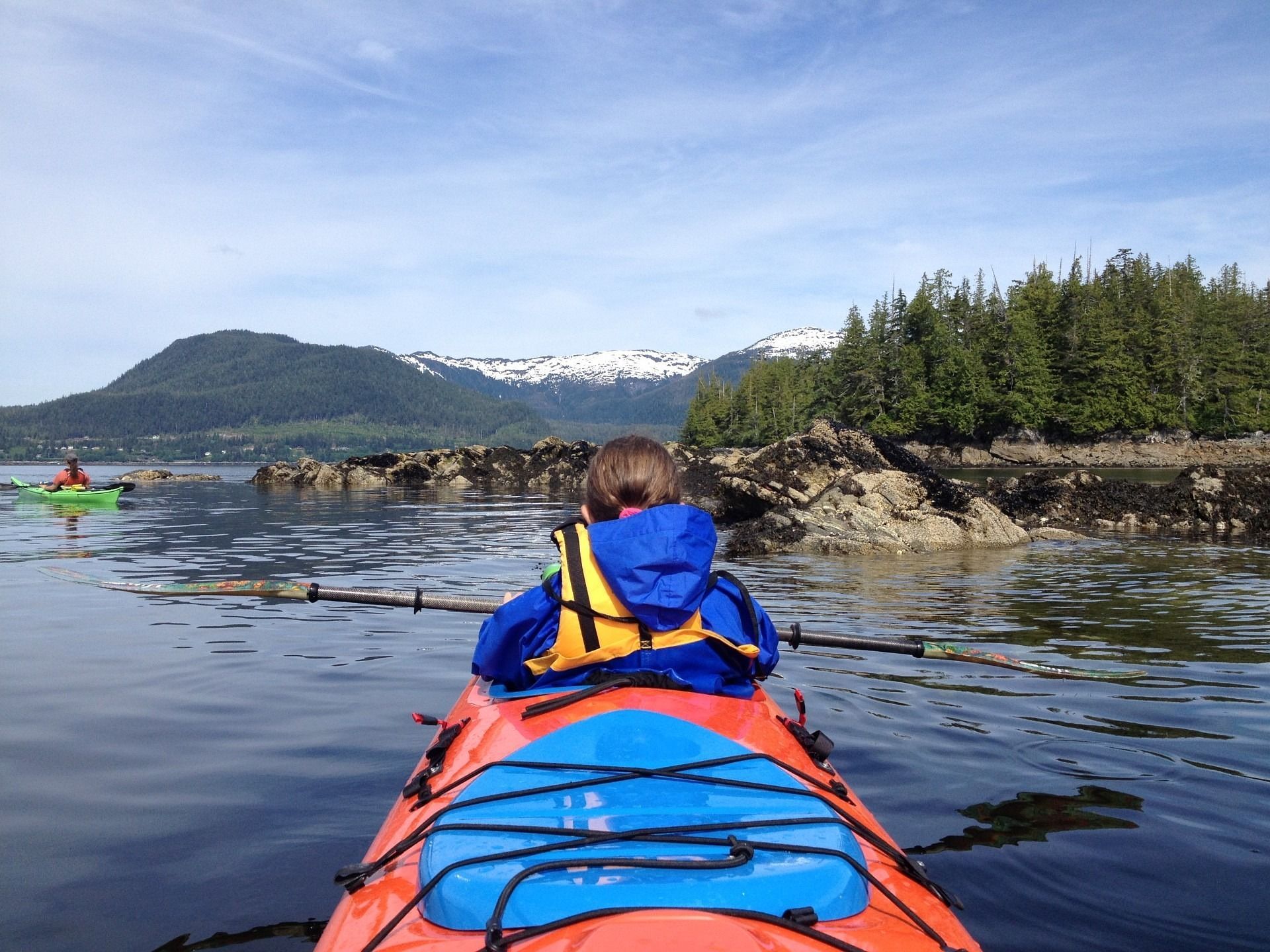 Things To Know About Kayaking In Alaska
Here are some important things to know about kayaking in Alaska:
1) Conditions Can Be Challenging
The weather and water conditions in Alaska can be unpredictable and challenging, with strong winds, large waves, and fast-moving currents. Make sure to check the weather forecast and be prepared for any conditions you might encounter, even if you are just going for a half-day tour.
2) Have The Necessary Gear
To ensure your safety when out on the water while you explore Alaska, depending on where you kayak you may some specialty equipment. These might include:
A drysuit or wetsuit

A spray skirt

A helmet

Rescue line

A PFD

A pump

First aid kit
3) Know Your Skill Level
It's crucial to know your own kayaking ability level before visiting Alaska, as different regions provide varying degrees of difficulty out on the water. If you're a beginner, you might want to sign up for a trip or a class taught by a qualified instructor. Only experienced kayakers should travel to remote Alaska.
4) Always Respect The Wildlife
It's important to remember that Alaska is home to a wide variety of wildlife, including whales, seals, otters, brown bears, bald eagles, and more. When kayaking, and looking to spot wildlife, it's important to respect all wildlife and give them plenty of space. Remember especially that bald eagles are endangered and protected, and it is illegal to disturb them or their nests.
5) Be Sure To Plan Ahead
Before you go kayaking in Alaska, make sure to plan ahead and be prepared for any situation. This includes researching the area you'll be visiting, bringing enough food and water, and making sure you have a way to communicate in case of an emergency. This is true for every type of excursion, whether it is a half-day trip or a multi-day trip.
6) Adhere To The Leave No Trace Principle
When kayaking around Alaska's natural areas, it's important to practice "Leave No Trace" principles. This means leaving the environment as you found it, disposing of waste properly, do not leave trash, and avoiding disturbing wildlife and vegetation.
These are just a few of the things to keep in mind when on your Alaskan kayaking trip. By taking the time to prepare and being mindful of your surroundings, you can have a safe and enjoyable kayaking experience in this beautiful and wild state.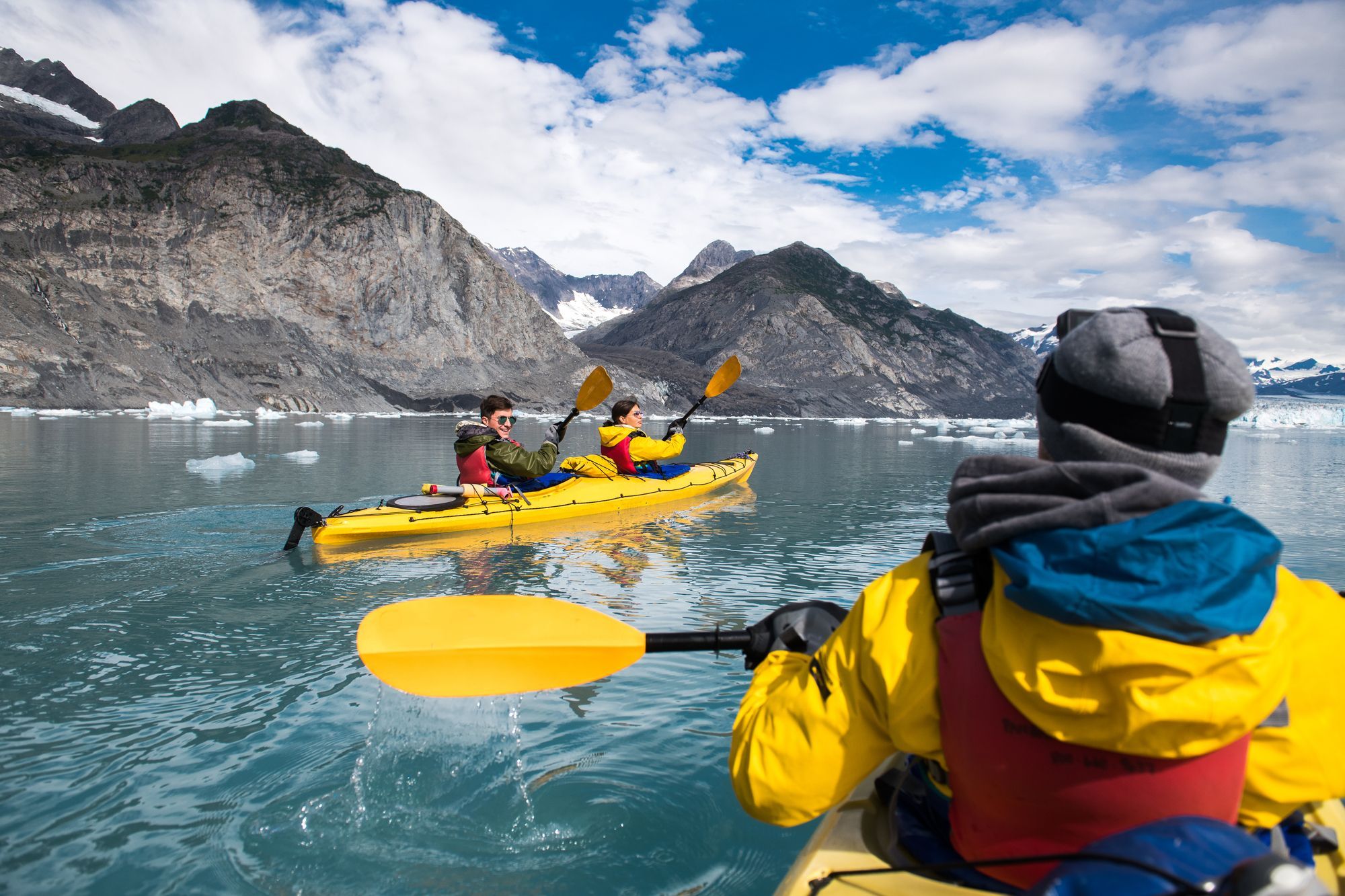 Places To Go
Alaska's beautiful landscapes, the plethora of wildlife, and the variety of water conditions make it a kayaker's dream destination. For those interested in Alaska as a kayaking destination, these are some of the top spots:
1) Port Frederick
This scenic bay, located near Hoonah, Alaska, is surrounded by lush forests and towering mountains.Port Frederick is a popular spot for kayaking with its calm waters and abundant wildlife, including seals, otters, and whales.
2) Kenai Fjords National Park
This park is known for its stunning fjords and glaciers and is a popular destination for kayakers. Sea kayaking in the park provides an up-close view of the glaciers and an opportunity to see wildlife such as sea otters, seals, and whales.
3) Tongass National Forest
There are chances for sea kayaking in both freshwater and saltwater conditions in the Tongass National Forest, the biggest national forest in the United States. Paddle your canoe or kayak through the placid waters of its lakes, rivers, and inlets, taking in the towering trees and beautiful landscape that characterize this region.
4) Bear Glacier
This massive glacier, located on the Kenai Peninsula, is a popular destination for kayakers. Paddle up close to the glacier and take in the stunning views of the ice formations and the surrounding mountains.
5) Resurrection Bay
This scenic bay, located near Seward, Alaska, is surrounded by lush forests and towering mountains. Resurrection Bay is a popular spot for kayaking with its calm waters and abundant wildlife, including seals, otters, and whales.
6) Aialik Glacier
This glacier, located in Kenai Fjords National Park, is one of the most accessible in Alaska. Sea kayaking in the glacier's bay offers an up-close view of the ice formations and the opportunity to see wildlife such as otters, sea lions, seals, and humpback whales.
7) Denali National Park
This iconic park is best known for its towering mountain, Mount Denali, but it also offers fantastic kayaking opportunities on its many lakes and rivers. Explore the park's pristine wilderness and look for wildlife such as moose, caribou, and grizzly bears.
8) Mendenhall Lake
This serene lake, located near Juneau, Alaska, is surrounded by lush forests and glaciers. It's a popular spot for kayaking, with its calm waters and stunning scenery. Mendenhall Lake is also a great place for beginning kayakers. Many kayaking tours are available in this area.
9) Prince William Sound
Prince William Sound is a beautiful body of water in southern Alaska, characterized by its proximity to glaciers and fjords. Because of the abundance of wildlife and the difficulty of the water, it is a favorite place for sea kayaking.
10) Mendenhall Glacier
One of Alaska's more approachable glaciers is the Mendenhall Glacier, and it's located not far from Juneau. Otters, seals, and even whales can sometimes be spotted while kayaking in the glacier's lake, providing a unique perspective on the ice formations.
These are just a few of the many fantastic kayaking destinations in Alaska. Whether you're a seasoned kayaker or just starting out, there's something for everyone in this beautiful and wild state.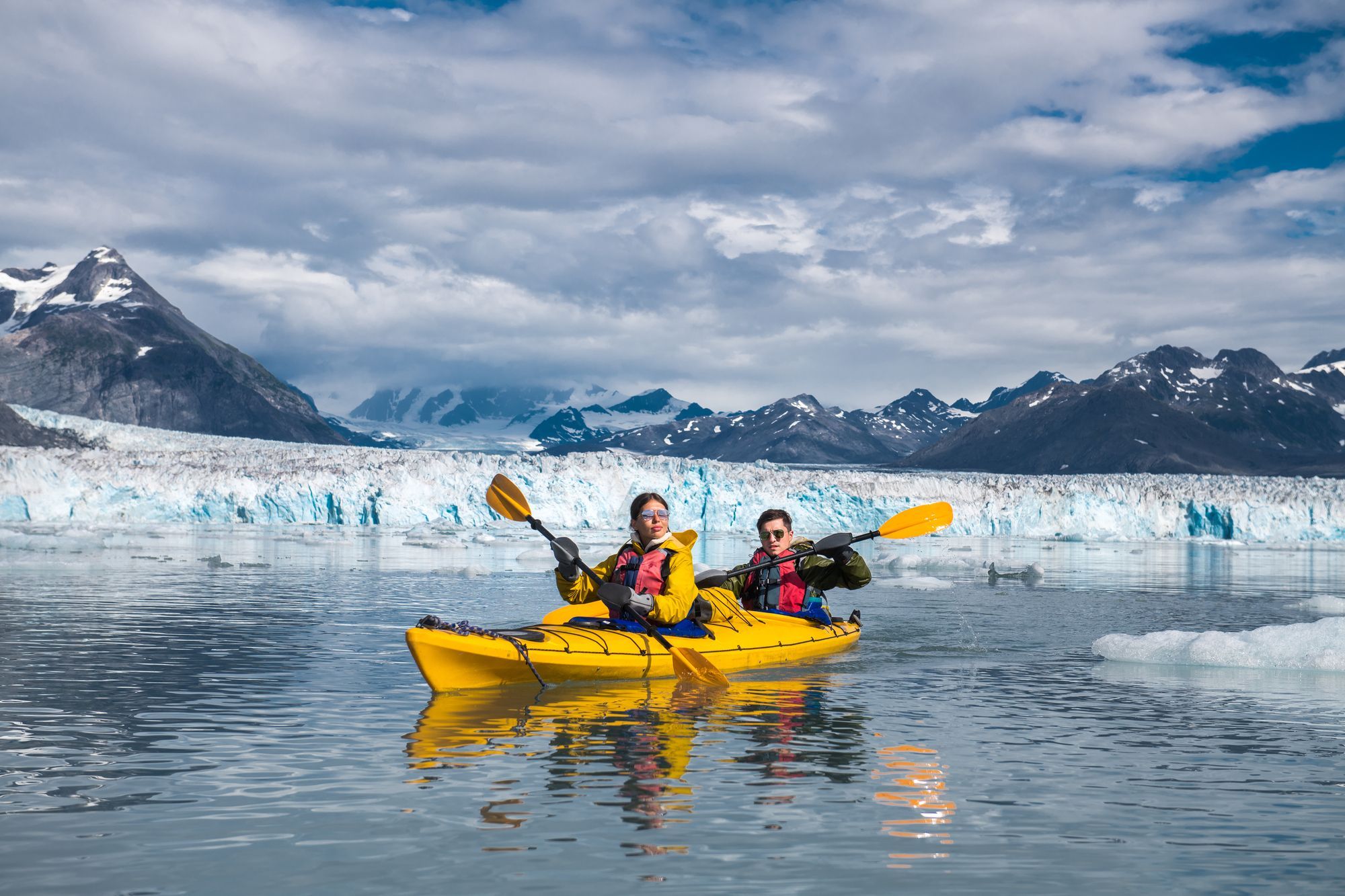 Types Of Kayaking Excursions In Alaska
Those interested in kayaking can choose from a wide range of trips in Alaska, each tailored to a different audience and level of experience. Some common choices are:
1) Glacier Kayaking Tour
These tours take you up close to the glaciers and allow you to experience the power and beauty of these natural wonders. When you go on a kayak tour of the glaciers, you get up close and personal with these incredible natural structures, feeling their full force and beauty. Some sea kayaking tours get quite close to glaciers.
2) Wildlife-Watching Tours
These kayak adventures take you to areas known for their abundant wildlife, such as sea otters, seals, sea lions, whales, and more. You will be able to observe these creatures in their native settings while gaining insight into their ecology and behavior.
3) Day Trips
If you only have a day to spend in Alaska, but still want to go kayaking, a day trip is your best bet. These excursions, which can last a number of hours, are a great way to see some of the state's beautiful landscapes and unique fauna.
4) Multi-Day Expeditions
If you're looking for a more in-depth adventure, a tour over many days may be the way to go. These excursions take you further into the wild, where you may camp on secluded beaches and visit off-the-beaten-path destinations.
5) Guided Tours
If this is your first time kayaking, or if you just feel more comfortable under the guidance of an expert, you may want to look into a guided trip. These tours are led by experienced guides who can help you navigate the waters, provide safety instruction, and offer insight into the local culture and history.
Alaska's kayaking industry offers everything from relaxing day outings to exhilarating weeks-long adventures. Pick the excursion that's right for your interests and abilities, and get ready for a once-in-a-lifetime adventure.
Hoonah Travel Adventures offers a unique kayaking tour of Icy Strait Point, a remote and picturesque town in Alaska. The tour takes kayakers on a journey through the calm waters of Icy Strait, surrounded by stunning scenery and abundant wildlife. The area is known for its rich Native Tlingit culture, and the tour provides an opportunity to learn about the history and traditions of the Tlingit people.
Along the way, kayakers may spot humpback whales, sea otters, and other marine wildlife, and will also have the chance to explore the stunning glaciers and fjords that line the shore. With experienced guides, top-of-the-line equipment, and a commitment to sustainability, Hoonah Travel Adventures provides a one-of-a-kind kayaking experience in Alaska's Icy Strait. Book your adventure today!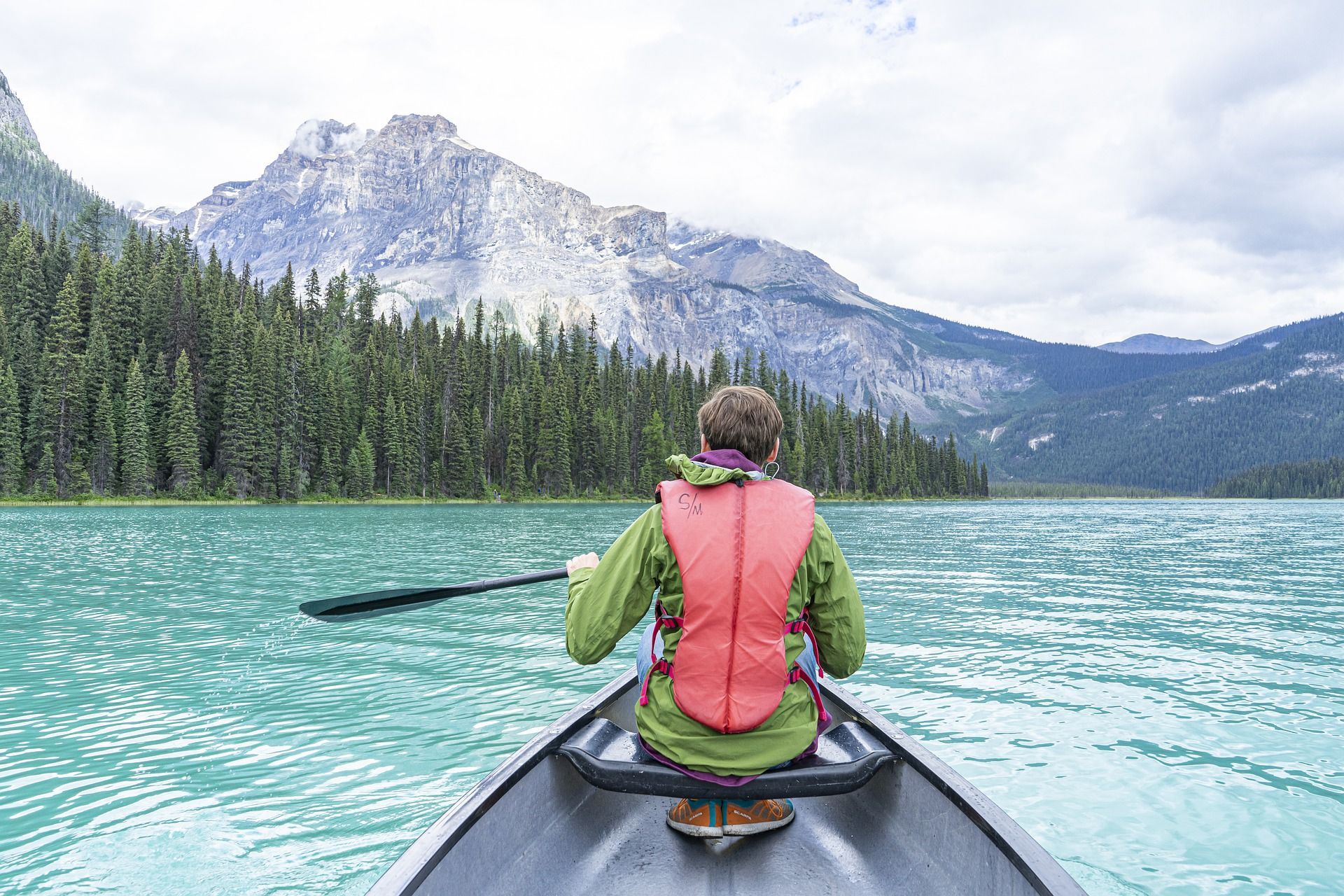 Hit The Water!
All in all, kayaking in Alaska is a once-in-a-lifetime experience that will leave even the most seasoned outdoorsmen in awe. If you're planning a trip to the Last Frontier, you absolutely must go kayaking in Alaska for a memorable time. The state's many glaciers, fjords, and seas teeming with animals make for some of the most stunning scenery you'll ever see.
Whether you're an experienced paddler or just starting out, a kayaking tour in Icy Strait Point is a fantastic way to get in touch with nature and make memories that will last a lifetime. Get outfitted, grab a paddle, and discover the incredible beauty and diversity of Alaska from the water.